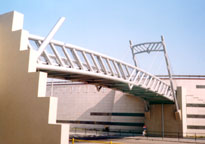 Bridges are thousand-year-old symbols of making contact, and are, at the same time, perhaps the most sightly ones of the engineering constructions. For a number of cities, a magnificent bridge became a symbol for the given city, such as the Brooklyn Bridge in New York, the Tower Bridge in London, the Golden Gate Bridge in San Francisco, or the Erzsébet-híd (Elizabeth Bridge) in Budapest. However, in engineering circles, Erzsébet-híd also makes one to think of UVATERV Ltd, for every product of our company is decorated with a simplified print of Erzsébet-híd, as the logo and trademark of our company.

Bridges, towers, special halls and steel constructions, industrial conveyer systems, designed by UVATERV Ltd., in Hungary and in some 20 countries from India to Cuba, from Germany to Saudi-Arabia, hallmark the creativity, skills and talent of Hungarian structural engineers dealing with design of bridges and structures.

Forty engineers and technicians of UVATERV's bridge design department are devoted to the design of bridges. Some of them have international reputation, and are begetters of a number of trade patents. They have an outstanding experience in designing various structural solutions, as well as in knowing the opportunities allowed by a building technology, and in selecting the most economic combinations. Computer technique is widely used in each phase of their design.

It is a governing motive featuring the work of designers to seek for new techniques, solutions. Perhaps, the best example for this is represented by four bridges across the River Danube in Budapest, designed by UVATERV, which are - in chronological order - as follows: Árpád-híd (Árpád Bridge), Erzsébet-híd (Elizabeth Bridge), Háros-híd (Haros Bridge), and the latest one, the Lágymányosi-híd (Lagymanyos Bridge) that was opened in 1995. Each of them has a different construction, and containing professional novelties, attractive special solutions. In addition to the spectacular challenges, the design of smaller bridges and other engineering structures, particularly in connection with the design of Hungarian motorways, is also of great importance. The designers perform these jobs with the same care as those of the great assignments.