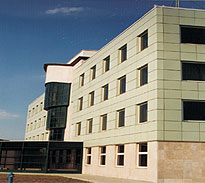 Architectural design can be placed among the conventional profiles featuring UVATERV Ltd. Primarily buildings for transport projects are included among our references. A nation-wide network of car service stations, a number of passenger bus stations, railway stations, maintenance and repair workshops for railways, airport hangars and other buildings of miscellaneous function, metro stations, multi-storey car parks both underground and overground, border crossing points of road traffic, road operation and maintenance plants and motorway operation and maintenance centres were built in Hungary according to our designs. Terminal 2A of Budapest-Ferihegy International Airport, which is a representative airport of Budapest with its functional design, up-to-date structural solutions and aesthetic appearance, represents an outstanding standard among operation buildings of transport.

With many years of experience in the field of realization of buildings UVATERV undertakes the following tasks:
preparation of complex building designs in every engineering sector from the preliminary designs to the construction designs, and if required, participation in the technical management of the construction offering technical supervision as well
Design of buildings and other facilities in every field of designation, such as:
-new buildings: dwelling houses, public buildings, hotels, buildings of transport, industrial buildings, buildings for sacral purposes;
- professional and high quality reconstruction design of existing buildings of every designation; from the simple facilities to historic monuments of national importance, such as the Vaszary manor house at Balatonfüred, the Jókai Museum or the Pálóczi villa;
- Besides self-contained buildings, the design of building complexes in Hungary and abroad, such as:
-stations of new railway line sections of hundreds of kilometer, all types of technical buildings (mainly abroad, e.g. in Libya)
- reconstruction design of all the facilities at the modernization and upgrading of existing railway lines (mainly in Hungary)

The building designs prepared by our company are based, in every case, on a careful functional and technological conception, contain all necessary sectoral detailed drawings, and are up-to-date and economic in regard to structure, and all of them has an aesthetic appearance. Based on our wide range of experience, in practice we undertake to design buildings of any demand and function.