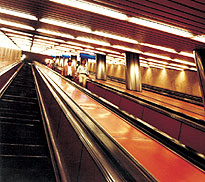 In modern cities, it is impossible to handle transport by means of the overground transportation systems only. It holds true particularly in the case of a number of historical cities where the densely built old parts of the city are not suitable for meeting today's transport demands.

In some 130 large cities of the world there are underground (metro) railway services - or at a considerably lower rate - elevated rapid transit railway services are provided. The advantages offered by these public transport modes surpass the overground transport systems in every respect:
Their transit capacity is 4 to 5 times multiple that of overground trams, and it is more than 10 times as much as that of buses;
Their trip rate is usually at least 2 times the speed of the overground systems;
In regard to both of the frequency of services and reliability (running on schedule), in addition to the safety of transport and comfort, they are unrivalled.

UVATERV Ltd. has been dealing with the planning and design of underground railway/metro lines since the early 50s. UVATERV participated in the conceptual design of the Budapest metro network, acted as general consultant for the entire 27.3 km long existing network of the East-West and North-South lines having 30 stations in Budapest. In addition, UVATERV also acted as general contractor for the modernisation work of the Millennium Underground Railway Line having been built in 1896 as the first one in the continent of Europe and still in operation in Budapest.

Engineers of UVATERV Ltd. have also participated in design of metro lines for several cities abroad - including Sofia, Prague, Dresden, Berlin, Calcutta -, and they names were associated with planning and design for a 70 km long, partly overground and partly underground rapid transit railway system for Tripoli, the capital of Libya (the construction of the latter has not started yet).

In addition to a global design of metro lines, UVATERV Ltd. has also designed tunnels of various intended purposes, such as railway tunnels in Hungary and Belgrade, water transport aqueduct tunnels in both of Algeria and Hungary. Again, UVATERV Ltd. prepared preliminary designs concerning several road tunnels under the scope of the motorway construction programme in Hungary.

Further on, UVATERV Ltd. has considerable references in the design of underground engineering structures, deep foundations and cofferdams as well.

In possession of decades-long, experience and excellent references, UVATERV Ltd. undertakes:
To perform conceptual design of global overground and underground rapid transit railway systems;
To design specific underground lines, tunnels, stations and other engineering structures;
To perform installation, architectural and technological designs for underground lines, and other underground constructions;
To perform a global design of road, railway, aqueduct and public utility tunnels;
To perform a global design of facilities of various intended purposes (such as underground car parks);
To prepare designs for special deep foundations and cofferdams (secant piles and slurry trench wall type technologies, anchorages, etc).